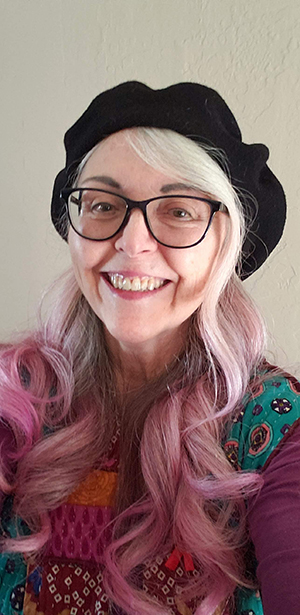 I have been creating art in some manner for as long as I can remember. I took my first art lessons at the Dallas Museum of Art, when I was 8 years old. We would sketch the original paintings of the old masters while the history of the painting & artist was told to us. The classes are a treasured memory for me, and I still love to explore art museums wherever I travel.
I studied art at the University of Texas – Austin, with plans to become an art teacher. The classes at the University left me yearning for more, so I started exploring art classes at the community college. I fell in love with pottery as many did in the 70's. I soon joined a pottery studio where I became an art teacher, as my original plan. My soul still yearned for something that resonated deep within, which lead me to take another class, this time in stained glass.
I immediately knew that glass was what I wanted to work with for as long as I could. I moved to Prescott, AZ in 1980 and was hired by a stained glass studio, where I worked on commissions and taught classes. I was also asked to teach stained glass for Yavapai College, where they gave me an honorary teaching certificate based on my life experience, teaching art. I have continued to work with stained glass for the past 40+ years.
Please feel free to contact me at [email protected].
---
I offer "Make & Take" art workshops in Prescott. The curriculum is planned so that a finished piece can be completed by the end of class without feeling rushed to do so. My workshops are all about having a fun experience in a relaxed environment. I love to teach and share creative exchanges with my students. I also teach one-on-one sessions or specially designed workshops for a group of friends.
Please feel free to contact me at [email protected].