Concept: Synergy presents: Lazaris
". . . for as long as there is light . . ."
"We are here to remind you that pain and fear are not the only methods of growth; that you can more elegantly grow through joy and love. . . that you create your own reality. . . that there is a God/Goddess/All That Is who loves you, who knows your name. . . and that you love good enough" —Lazaris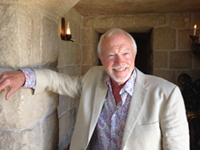 Since 1974, Lazaris has channeled through Jach Pursel, his only channel, offering his friendship and love and generating a remarkable body of tools, techniques, processes, and pathways for our Spiritual Journey to God/Goddess/All That Is.
He has touched thousands of us in his extraordinary workshops and tens of thousands more of us with his books, video recordings, and audio recordings that many have said are the finest tools of metaphysics and spirituality available.
The Lazaris Material Catalog — PDF download
Monthly Quotation from Lazaris
The Lazaris Material: An unparalleled collection of the most effective processes, techniques and meditations for spiritual growth
Jach Writes About: "You are in the right place, at the right time" — Lazaris
The Lazaris Material: Free Downloads
---
Concept: Synergy P.O. Box 37665, Raleigh, NC 27627. 800-678-2356
Overseas: 407-401-8990
email: [email protected]
Copyright NPN Publishing, Inc. All rights reserved.